UCD AFC Tour of Florida 1992
UCD are well known for traveling on trips to far flung places.  Mostly self-organised trips but also invitations or even competitive games.
UCD AFC's toured Florida in 1992, UCD AFC Supporters Club have a few details of the trip.  We hope to build up a detailed statistical history.  If any Players or Officials were on the trip they're welcome to contact the SC by email: UCDsupporters@gmail.com or comment on the article below.
It was announced in the UCD News Summer 1992 that the squads departure date was July 29th 1992 and the team expected to play two of the remaining professional clubs in the US, Orlando Lions and Fort Lauderdale Strikers.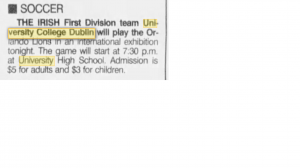 (Orlando Sentinel, 5th Aug 1992)
Wednesday 05th August 1992, International Exhibition
Orlando Lions v University College Dublin, ko 19:30
University High School
Adult: $5.00 Children: $3.00
Orlando Lions played in the nation-wide US Interregional Soccer League (USISL). Orlando Lions moved to indoor soccer in later seasons.
Orlando City Soccer Club play in the Major League Soccer league and have a facing Lion as a crest with 'Lions' as their nickname to reference the previous club.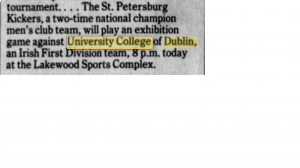 (Tampa Bay Times 07th August 1992)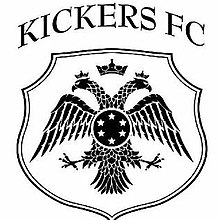 Friday 07th August, Exhibition game
Lakewood Sports Complex
Kickers were founded in 1957 and played Florida Suncoast League matches and won the National Challenge Cup (aka US Open Cup) in 1989.
 (Lakewood Sports Complex, recent photo)
Lakewood Sports Complex is a number of soccer pitches rented by St. Petersburg public Parks & Recreation.  UCD AFC SC have no information if this is the exact same venue for the game but it's reasonable to suppose it took place in this area.
[As can be seen, specific details are very scarce for this Tour atm, the Supporters Club welcome any information that will fill out further fixtures, scores, scorers, lineups and travelling squad.  Email: ucdsupporters@gmail.com]