(UCD AFC Media Officer Conor McCarthy with a team news and preview of tonight's UCD AFC v Wexford FC)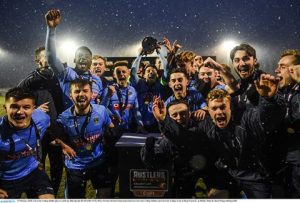 Match Preview: UCD AFC vs Wexford FC
Kick-off: 7.45pm, UCD Bowl, Friday 27th April
Last week saw us pick up a brilliant 2-0 victory thank to two goals from Georgie Kelly to keep us top of the table, two points ahead of Drogheda United.
Ahead of Friday's game against Wexford, Collie O'Neill spoke about last week's performance, Georgie Kelly's form and Friday night's game.
"I was delighted with our performance last week against Longford We really took the game to them, created some good chances, and most importantly Georgie took them very well when they came.
I was very pleased with how we defended. It's been one of our big strengths this season, we didn't give them many clear chances and that gives you a great platform to win when you have a striker in the form that Georgie is in.
Wexford will be coming into this game with confidence after a big 7-0 win last weekend, so we know we are going to have to be at our best if we are to pick up the three points and stay top of the league."
Last seasons' games against Wexford were all extremely tight, as we came out on top in both games at the UCD Bowl and the two games in Ferrycarrig Park ended in draws.
Daire O'Connor, Jason McClelland and Liam Scales all started for the Irish Colleges and Universities side on Tuesday in their 5-0 victory over the Irish Defence Forces side. Daire O'Connor and Jason McClelland both grabbed a goal each as they look to stake their claim for a spot in the World University Games side for the 2019 World University Games in Naples, Italy.
Tuesday night (1st May) will see us face Longford Town in the 4th Round of the Leinster Senior Cup at 7.45pm in the UCD Bowl.
Evan Osam is back in training as he continues his recovery from an ankle injury, however Friday's game will come too soon for his return, with the Leinster Senior Cup game against Longford a more likely game for his return. Neil Farrugia is ruled out as he continues his recovery from a broken collarbone. Timmy Molloy will also miss the game as he continues his recovery from a knee injury he picked up against Finn Harps.
Injured: Evan Osam (ankle), Neil Farrugia (broken collarbone), Timmy Molloy (knee)
Doubtful: None
Suspended: None
Top Goalscorer – All Competitions:
8 – Georgie Kelly
4 – Yoyo Mahdy
2 – Gary O'Neill, Timmy Molloy
1 – Josh Collins, Liam Scales, Maxi Kouogun, Greg Sloggett