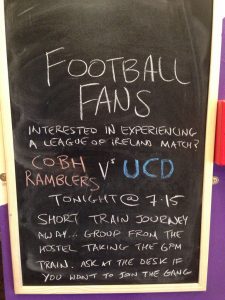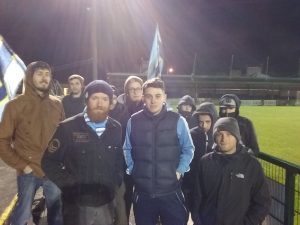 Pic:(Andy Wilson UCD Fan) chalk notice outside Hostel    pic:UCD FANS. Andy Wilson and Gary O'Neill
With the diaspora of UCD Fans spread across the length and breath of the world it should be no surprise to learn of fans living in Cork. Singer/songwriter Andy Wilson is once such fan, living in Cork for over a decade he was a regular at Belfield Park and still reminisces about certain games Athlone Town (A) in a Promotion/relegation Play-Off in may 2001. When he knocked off work bought a bed sheet and a can of black spray paint, knowing that  few UCD Fans would be there at that time of year sprayed "Everyone Else Is Doing Exams" across the sheet.  While the night produced a 2-1 loss, UCD won the 2nd leg by the same scoreline and won the penalty shoot-out.  It's the fans instincts that they must get to the away game, first to see it and second to influence it.  One can never tell what influences a fan can bring to a came, so any presence can affect the game.
It was this thinking and also that UCD were playing in his neck of the woods that Andy started the early, using Social Media he drummed up support from a diverse group of fans in Cork City where he works.
 But then disaster! Two days before kick-off a central person in the group had to cry-off with suspected food poisoning, the house of cards collapsed.  BUt Andy is not someone to be deterred by mere trifles (rancid or otherwise).
He built from the ground up again and started to engage with guests at the tourist Hostel where he works. The numbers started to go up again (smoke break chats are a devalued communication resource).  First a Frenchman from Aquitaine, originally Girondins de Bordeaux now drifting to AS Monaco and Paris St Germain.  Then a second Frenchman while checking in "Do you like Football?" "Oui, yeah… of course". "Do you want to come to a match tonight?" "Yes, sure".  Then  the motherload third level students from western Germany, mostly supporters of maligned TSG 1899 Hoffenheim, a club maligned by anti-modernist football fans because of new success and the clubs' rural setting.  But fans of small clubs are more polite, more tolerant and more curious than their big city counterparts.  Of course they were up for it. Andy had gathered around him 12 followers who didn't know what they were getting into but left their faith in his hands.
I joined the group on Saturday afternoon and we travelled along the idyllic train route to Cobh, including seeing a lemur sitting on the railings bordering Fota railway station and the adjacent wildlife park.  Cobh (formerly Queenstown) is the last port of call of RMS Titanic and there are a number of sites including Commordore Hotel and a museum commemorating the tragedy in 1912.
Cobh Ramblers St. Colman's Park is on the top of the hill that rises steeply above the deep water harbour. Entry €10 adults and €5 concession. It was Andy securing the €5.00 Student for our new fans. 22 page programme at €3.00 is great value with several articles and pictures, very few adverts. The small ground has two all-seated covered stands and the third side uncovered standing.  All three areas are only 6-8 rows deep.  The fourth side has the FC's Clubhouse with lounge and bar.  Food is available from vans.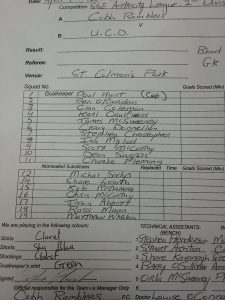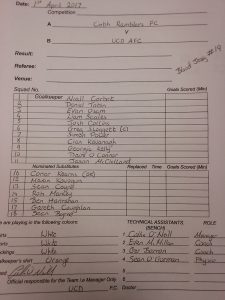 With our group getting the beers in at the clubhouse. compliments of the UCD Supporters Club, the match kicked off.  Unfortunately it never got going a Cian Kavanagh free kick and a further chance near the end of the first half was the excitement on the pitch.  But on the low terrace UCD fans were in full voice getting behind the team.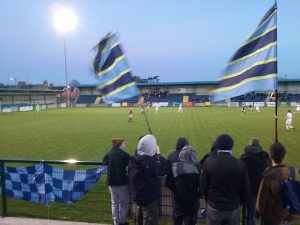 But the match had few chances for either side, with most of the play in the centre.  UCD did create a number of corners and tried to create something.  But Players and Fans alike were rocked back when a ball wasn't cleared and a low cross inside the box was dispatched home by Cobh.  UCD tried to chase from then on, Simon Power's incredible run from inside his own half, drawing the 'keeper his low angled shot just went past the post.
It was a disappointing night on the pitch but off it UCD made more friends.  Cobh Ramblers looked after us all very well once again and the Supporters Club want to thank them again. Our new Fans enjoyed the trip but the match could have been better.
The season is still in the first quarter so there's time for UCD Fans to continue to get behind the team and put them back on top of table.
Next Home SSE Airtricity League matches:
Saturday 08th April, UCD AFC v Athlone Town, UCD Bowl, ko 19:45
Friday 14th April, UCD AFC v Cabinteely, UCD Bowl, ko 19:45