Details of the Match Fixtures for the UEFA Youth League are confirmed.
UEFA Youth League: 1st Round, 2nd leg
Wednesday 18th October ko 18:30
Aker Stadion, Molde.
Molde FK (NOR) (1) v  (2) UCD AFC (IRL)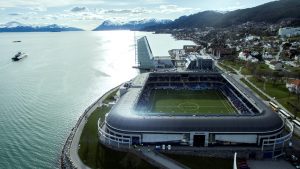 Molde FK, Aker Stadion, Julsundveien 14, 6412 Molde, Møre Romsdal, Norway
11,249 all-seated Aker Stadion has a synthetic pitch and is the venue for the U19s UEFA Youth League 2nd leg.  It's the domestic venue for Molde FK first team who compete in top Division of Norwegian football Eliteserien.  Molde FK have also hosted Champions League at Aker Stadion. Molde II, the club's reserve team that compete in the Third Division also play at Aker and the normal domestic league venue for their U19s.  The Stadium is right in the centre of town, situated in a beautiful location by the fjord.
Molde has an Airport, Molde Arø (MOL).  Nearby Alesund Vigra (AES) or Kristiansund (KSU) also might suit UCD Fans travelling to or from Oslo or other Norwegian cities by air.  Bergen (BGU) also has many International destinations. [Kristiansund is north of Molde and not the larger town Kristiansand close to Oslo].
Molde doesn't have a train station, but Åndalsnes (33km) is the nearest station.
Airports and Airlines
Airport (website linked)
Code & Dist. from Molde
Airport Website
Airlines
Depart
Arrive
Price Notes
Oslo Gardermoen
OSL 462km (Road 6hr 47 min)
https://avinor.no/flyplass/oslo/
SAS (SK)
Norwegian (DY)
Air Norway (MDT)
Widerøe (WF)
Out SK4604 DUB 1310
Ret SK4603 OSL 10:50
OUT DY DUB 12:50
OSL 1620
DUB 12:10
OSL 10:50
Outward 17th Oct SAS €60.70 (8kg carry only) 70.70 (23kg checked).
RET 19th/20th OCT SAS €236/€248. SAS via Copenhagen €189.
After these dates, the price decreases.
Molde, Årø
MOL 8km (20 mins)
https://avinor.no/flyplass/molde/
SAS (SK)
Norwegian (DY)
Widerøe (WF)

OUT Norwegian
DY1363 DUB 10:50
DY436 OSL 21:50
SK4528 OSL 19:25
OSL
MOL 22:50
MOL 20:40
DY 17th Oct €109 (carry on) €134 (20kg checked).
RET 19th €304/329
RET 20th €149/174
SAS 17th Oct €353/366
thru London €278.
RET SAS 19th €193/€206.
20th Oct €128/€141
MOL - OSL 19th Oct €96/€132

Ålesund, Vigra
AES 96km (2hrs 10min)
https://avinor.no/flyplass/alesund/
SAS (SK)
Norwegian (DY)
Widerøe (WF)
SK1326 OSL 17:10
SK1330 OSL 19:10

AES 18:05
AES 20:05
17th Oct DUB -OSL - AES 1 -way €124.92 (8kg Hand).
17th Oct DUB-OSL-AES 1-way €137.92 (23kg checked)

Kristiansund
KSU 68km (1hr 10mins)
https://avinor.no/en/airport/kristiansund-airport/
SAS (SK)
Widerøe (WF)
Bergen
BGU 459km (9 hours)
https://avinor.no/flyplass/bergen/
SAS (SK)
Norwegian (DY)
Widerøe (WF)
Trondheim
TRD 250km (4hrs 05mins)
https://avinor.no/flyplass/trondheim/
SAS (SK)
Norwegian (SK)
Widerøe (WF)
Sandjefjord Torp
TRF 620km (9hrs)
https://www.torp.no/en/frontpage/?lang=en_GB
Norwegian (DY)
Widerøe (WF)
Wizzair (W6)
Ryanair (FR)
KLM (KL)

Train: Torp Lufthavn to Andalsnes (33km from Molde) minipris between 400kr and 600kr one way on www.nsb.no.
Budget airline airport.
No flights to/from IRL.
No flights to/from MOL, AES, KSU.
Flights in Norway to/ from Bergen (BGU), Trondheim (TRD).
Int. Manchester (MAN), London Stansted (STN), Amsterdam (AMS), Hamburg (HAM) and Copenhagen (CPH) Also Poland and Spain.
Air Norway (M3)
Air options: Using DUB with two flights to West Norway and two flights back. The price of the Oslo-Dublin leg on Thurs 19th and Fri 20th is prohibitive.  The costs come down on Sat 21st and Sun 22nd.
A good value air-only option price 17th Oct Norwegian DY 1363 Dublin – Oslo – Molde €109/€134  But a 5hr wait in Oslo.  Return to Oslo Thursday 19th SAS 3 flights €97, €108/€127, €138.  Return to Dublin sat or Sun. Or remain in west for another day or two.
Two Fans have chosen Tuesday 17th DUB – OSL – AES (Alesund) €97/€110 and 1 night Alesund.  Bus and boat to Molde using FRAMmr.no website. Spending a few days in West Norway before returning by train from nearest train station Åndalsnes to Oslo Lufthavn, airport stop. Train also goes to Oslo S, main Oslo Rail Station.
https://entur.no/

Timetable and ticket agents. Very good general website for varied transport in Norway, search by point to point for public transport options. Routes can include bus, train and ferry/catamaran.
https://ruter.no/en/ Timetable and ticket agents for land travel.
Historic timetable guide, went under, now revived for different routes.
Norwegian Railways
sell discounted (eg OSLO Åndalsnes 299 krone each way).
The services can include Catermaran or Ferry Services as the route crosses fjords.  Eg Ålesund to Molde crosses Moldefjord from Vestnes to Molde.
Ferry
There are local routes with regular services through the day. Fjord1 run many if these services in West Norway. Website: http://www.fjord1.no
From the south, Vestnes is the corresponding port facing Molde.  There is a second service from Molde to Sekken Island, low altitude (200 metres). Bikes can be rented in Molde to bring free on the ferry.
Hurtigruten is a popular daily North -South long distance service up and down the coast of West Norway.  Using several big boats so that the daily timetable at the ports remain consistent.  Prices are reasonable.  Website: https://www.hurtigruten.com
Port to Port: Example Molde 21:30 – Bergen 14:30 (17 hours); Molde 22:15 Kriantiansund (KSU) 01:45 (3.½ hrs); Molde 22:15 – Trondheim 08:30 (10hr 15mins)   Fares are with or without Cabins.
Car Rental
[ Accomodation and Activity blog will be posted in the comment section below this blog soon.  If any UCD Fans have any information, tips or queries about Norway or Western Norway they are more than welcome to get in touch so we can share the information.  If you are travelling get in touch so that Fans can network if they have similar itineraries.]