Details of the Match Fixtures for the UEFA Youth League are confirmed.
UEFA Youth League: Round 1 Wednesday 18th October ko 18:30
Aker Stadion, Molde.
Molde FK (NOR) v UCD AFC (IRL)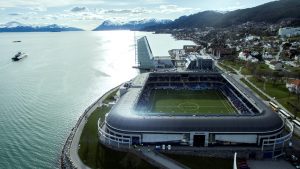 Molde FK, Aker Stadion, Julsundveien 14, 6412 Molde, Møre Romsdal, Norway
Club Website: http://www.moldefk.no/
Aker Stadion http://www.moldefk.no/english/aker-stadium
Aker Stadion has a synthetic pitch and is the expected venue for the U19s UEFA Youth League match.  It's the domestic venue for Molde FK first team who compete in top Division of Norwegian football Eliteserien. Molde FK have also hosted Champions League at Aker Stadion. Molde II, the club's reserve team that compete in the Third Division also play at Aker.  The Stadium is right in the centre of town, situated in a beautiful location by the fjord.
[UCD AFC Supporters Club will more travel details Air, Rail, Road and Boat along with some accommodation options.  We want UCD Fans who are hoping to travel to get in touch with the Supporters Club as many Fans may be travelling the same way and we can share information or book buses if that suits some groups].