World Collegiate Soccer Championship 1987
In 1984 the World Collegiate Soccer Championship was founded by entrepreneur Bob Azar after watching a Mexico 0:1 USA Friendly International on the tv.  After annual single match tournaments, the fourth edition of the invitational tournament extended to four teams and UCD AFC (IRL) was one of the invites.  The matches were played on the New Mexico State University campus at the 20,000 capacity Aggie Memorial Stadium, Las Cruces, New Mexico, USA.
UCD brought over the Famous Fried Chicken League of Ireland squad in late April 1987 with First Team Coach Theo Dunne at the helm.

Semi-Final: 24th April 1987, Aggie Memorial Stadium
University Veracruz (Mex) 0:0 UCD AFC  aet (10 mins ew) (2-3 pens ) Att: 5,300
David Tilson missed, Michael Kavanagh, Peter Hanrahan and Mark McKenna scored [1 missed peno not mentioned]
(Match report from Albuquerque Journal 25th April 1987)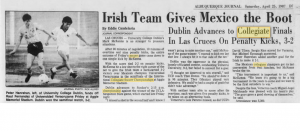 It was reported as a tough game with plenty of heavy challenges.
On Sunday 26th April 1987, UCD took the field against Sangamon University later to become Univeristy of Illinois of Springfield.  Sangamon had defeated the holders UCLA 2-1 after the favourite UCLA had a player sent off.
IV World Collegiate Soccer Championship Final
Tuesday 28th April 1987, Aggi Memorial Stadium, Las Cruces, New Mexico
Sangamon University 0:1 UCD AFC, ko 14:15 (Michael Kavanagh 83′)
Attendance: 13,123  Temp: 82°F  Humidity: 20%
(preamble on the build-up and then approx 80 minutes of the match but includes the goal from Michael Kavanagh near the end. USA Goalkeeper Shep Messing was the TV Pundit with a wonderful pragmatic approach to the game.)
Michael Kavanagh headed home in 71st minute after a Mark McKenna free to Colm Begley at the back post, he sent a floating header back across the goal.  Kavanagh scored inside the six-yard box to give UCD some silver wear to take back to Ireland.
UCD AFC: Paul Kavanagh (GK), Richard Earle, Paul Hale, Paul Hughes, Colm Begley, Michael Kavanagh, Peter Hanrahan, Simon Lysaught, Mark McKenna, Darren O'Brien, David Tilson.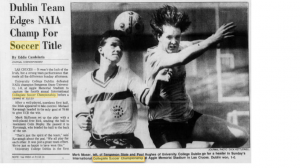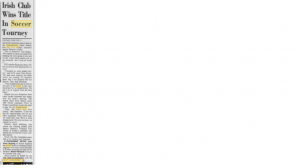 (Albuquerque Journal with Match Report of Final in two parts)
It was a credit to the curiosity of the club to accept the invitation in mid-season.  At the time UCD AFC were in their second year of a three year spell in the First Division.  At the end of the 1988-89 season many of the UCD Players would get promotion to the 12 team Premier Division as Runners-Up behind Champions Drogheda Utd.  But 1 point ahead of Bray Wanderers who only drew 1-1 away to Monaghan Utd. in the last game of the season postponed after the regular season because of Bray's FAI Cup run put pressure on their fixture list.
Paul 'Kavo' Kavanagh went to Shamrock Rovers after our relegation in 1990.
Michael Kavanagh went to Dundalk FC, Peter Hanrahan went to Limerick FC in 1989 and he played and may have scored against UCD's first Premier Division league game in August 1989.  Peter's son Ben Hanrahan is playing and scoring for UCD this year.
Peter joined Dundalk and both he and Michael Kavanagh played in the Champions League against Kispest Honved.
Darren O'Brien held the club's leading league goal-scorer for a season of 14 goals for several years.
David Tilson went to Bohemian FC and became a fan favourite, scoring against Cork City in the FAI Senior Cup Final in The Gypsies win.